ISIS today sent out a "Coming Soon" documentary titled Warning: Message Signed In Blood Coming Soon To 'Nation Of The Cross.' It will be as ISIS promised, showing a wave of Christian blood which it has spilt. It is quite horrifying.

This morning I noticed some western speculation as to what ISIS had in mind for this sinister surprise which makes it obvious that from the beach wave mixed in blood as to another slaughter of Christians.




UPDATE: WE ARE POSTING THE VIDEO HERE:



Some social media in the west speculated that this has something to do with Denmark, for example:

"Speculation as to 'nation of the cross' spans from Denmark (flag with cross) to 'community of Christendom.' This announcement came after the Denmark attacks yesterday, so is not a reference to yesterday's attacks." (

Weasel Zippers

)

Westerners care more about Charlie Hebdo, a liberal who mocked Christ portraying the Virgin Mary giving birth to a pig. But all throughout the Middle East, the speculation is quite different, the beach and the waves shaped red, a reference to the blood was a clear message to the Copts in Egypt, a people who are rarely cared for and to Egypt it is about the slaughter of the 21 Christian Copts who were dragged to a beach front in Libya dressed in orange jump suits. The picture shows from ISIS magazine Dabiq, a group of Copts bowing on a beach, which can be linked to the image of the new promotional video issued by ISIS.





While ISIS did not issue any additional information about the nature of the video and what can be contained, the phrase "Cross nation," referred to in the Tweet, raises doubts about the fate of 21 Coptic Egyptian kidnapped by a group "Soldiers Of The Caliph" loyal to ISIS in Libya, and who had been abducted from the city Sirte, Libya.

And while the families anticipate the fate of their 21 sons in suffering, I am reminded of Christ's descending on earth. The two places in Scripture I find Jesus landing to rescue folks are Zechariah 14 and Isaiah 19.

We all know that Zechariah 14 is about rescuing the Jews and converting them to Him, but Isaiah 19 should shock some folks and get us to ask who and why is Christ coming for in Egypt:

"And it will be for a sign and for a witness to the LORD of Hosts in the land of Egypt; for they will cry to the LORD because of the oppressors, and He will send them a Savior and a Mighty One, and He will deliver them." (Isaiah 19:20)


Here we have the "Mighty One" is the Messiah, who fights on the day of the Lord to fight the oppressors. Here, see for yourself your brothers and sisters in Egypt suffering from the oppressors and calling for Jesus to come down and save them:







Islamic State murders two "spies," crucifies another, as children watch

February 15, 2015 11:33 pm By Robert Spencer 1 Comment
"Indeed, the penalty for those who wage war against Allah and His Messenger and strive upon earth corruption is none but that they be killed or crucified or that their hands and feet be cut off from opposite sides or that they be exiled from the land. That is for them a disgrace in this […]




Sisi vows revenge for Islamic State's murder of 21 Christians

February 15, 2015 9:37 pm By Robert Spencer 56 Comments
"Safety for you crusaders is something you can only wish for." Note that the Islamic State is here referring to Egyptian Christians — the indigenous people of Egypt — as "Crusaders." Their ignorance of history is in service of their claim that Christians have no place in the Middle East. Their fanatical adherence to Islamic […]




Denmark: Police raid Internet cafe, arrest two Muslims in jihad probe

February 15, 2015 5:29 pm By Robert Spencer 9 Comments
This article describes Omar El-Hussein only as a "22-year-old, Danish-born man." His identity, however, comes from the newspapers, as "police have not yet released information on the identity or motives of the attacker." He didn't commit these murders because he is 22, or because he was born in Denmark. He committed them because he was […]




Danish jihadi murderer freed from prison 2 weeks ago after knife attack

February 15, 2015 4:03 pm By Robert Spencer 15 Comments
"We do not have concrete knowledge of him being a traveller to conflict zones." So he is just a believer in a belief system that all Western authorities insist has nothing to do with attacks like this one, although the attackers themselves continually point to it as their motivation. "Pictured: Danish lone wolf 'jihadi' who […]




Denmark: Muslim who fired on free speech event and synagogue is killed

February 15, 2015 8:38 am By Robert Spencer 23 Comments
After he opened fire on police — a salient fact that AP for some reason leaves out of its story. In any case, these events in Copenhagen yesterday were a conscious imitation of the Paris attacks last month: an attack on "blasphemers" followed by an attack on Jews. In response, Danish and European authorities are […]





Westerners join Iraqi Christian militia to fight Islamic State

February 15, 2015 11:10 pm By Robert Spencer 3 Comments
These individuals are doing what the governments of the post-Christian West have shown no interest in doing: protecting the Christians persecuted by the Islamic State. But since they self-identify as Christian, watch for them to be vilified and demonized by the mainstream media, and held up as the equivalent of the Islamic State: Christians committing […]

Conflict News @rConflictNews · 1h 1 hour ago
Several US Citizens have joined in the small Iraqi Christian militia to fight #ISIS @Aceeeeeed http://youtu.be/5r-P7vITDMc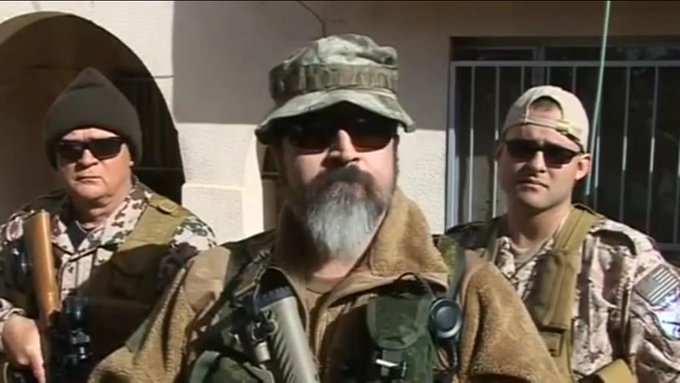 Homeland Security Committee Chairman: Radical Islamist Extremism "Spreading like Wildfire"

By: Amanda Vicinanzo, Senior Editor

02/16/2015 (10:00am)

With estimates that 20,000 foreign fighters—including 3,400 Westerns— from 90 countries around the globe have traveled to Syria to fight for terrorist organizations, US counterterrorism officials are becoming increasingly worried that they will return to American shores to conduct an attack on the homeland.

"We need to accurately define the threat – violent Islamist extremism – and recognize it is spreading like wildfire around the globe," said House Committee on Homeland Security Chairman Michael McCaul (R-TX). "These fanatics want nothing less than destruction of our way of life, and now their ability to match words with deeds is growing at an astonishing rate. In recent years, their safe havens have proliferated and their ranks have swelled."

In the wake of the Islamic State's (ISIS) barbaric display of the horrific murder of the Jordanian pilot, the House Committee on Homeland Security held a hearing last Wednesday to examine current efforts to thwart the dual threats of foreign fighters and homegrown terror.

"This evolving Islamist terror landscape has given rise to the ―dual threats of foreign fighter returnees and homegrown terrorism," McCaul said. "The recent terror attack in Paris, and other attacks and plots in Belgium, Germany, the UK, Australia, Canada, and here in the US are proof that the threat has surged and that the enemy is dead set on attacking the West."

Nicholas J. Rasmussen, director of the National Counterterrorism Center, said the rate of foreign fighter travel to Syria is "without precedent," and is due in large part to ISIS' demonstrated mastery of social media and online tools as mechanisms for spreading propaganda. In fact, since the first of this year, ISIS has already published more than 250 official ISIS products online.

McCaul agreed, saying, "Extremists do not need to travel overseas in order to become a threat to our homeland. Through Hollywood-like propaganda videos and social media, Islamist terror groups are inciting their followers and potential recruits to wage war at home."

"ISIS social media also gives step-by-step instructions on how to get to the fight and how to return," Mr. McCaul added.

Rasmussen indicated that curbing the threat of foreign fighters returning to the homeland to conduct an attack will be very challenging, since there is no single pipeline for foreign fighters in and out of Syria. However, most routes involve transit through Turkey, prompting Turkey to step up its efforts to deny entry to potential foreign fighters based on information provided by the fighters' countries of origin.

In addition, in the wake of the attacks on the offices of Charlie Hebdo in Paris, the European Union is discussing ways to enhance border controls, implement stronger watchlisting and improve information sharing.

To identify and stop foreign fighters at their borders, Rasmussen recommended countries begin "screening visa applicants; using Passenger Name Records or other data to identify potential foreign fighters; applying increased screening measures at points of departure; and a willingness to share information through INTERPOL, the UN and bilateral relationships."

Department of Homeland Security (DHS) officialstold a congressional committee nearly a year ago that "the alarming number of countries that report very little -- and in some cases no -- lost and stolen passport data to INTERPOL for inclusion in the Stolen and Lost Travel Documents (SLTD) database" is "disturbing."

Additionally, nearly 13,500 passports were issued by the US Department of State to individuals who used the Social Security Number (SSN), but not the name, of a deceased person. Another 24,278 passports were issued to applicants who used a likely invalid SSN, according to the results of a Government Accountability Office (GAO) review last year of a 140-case generalizable sample and a 15-case nongeneralizable sample for these two populations, respectively.

Francis X. Taylor, DHS Under Secretary of Intelligence and Analysis at the US, testified that "we are unaware of any specific, credible, imminent threat to the homeland." However, he did express concern that Americans who join violent extremist groups in Syria "could gain combat skills, violent extremist connections and possibly become persuaded to conduct organized or 'lone-wolf' style attacks that target US and Western interests."

DHS emphasized that strengthening local communities as the first line of defense against violent extremism. Taylor also asserted that developing partnerships on a state and federal level, as well as between nations, is crucial to improving information sharing on terrorist activities.

Taylor noted that, "Following the Paris attacks, DHS worked with some of these countries and the Department of State to link members of civil society and community stakeholders in respective countries so that they could coordinate and build grass roots responses to the attacks in Paris."

To track foreign fighters, this fall DHS strengthened the security of the Visa Waiver Program through enhancements to the Electronic System for Travel Authorization (ESTA). The agency hopes these improvements will facilitate visa-free travel to the US while providing an additional layer of security.

As Homeland Security Today previously reported, the 38 VWP countries where a visa is not required for US entry have to provide additional passport data, contact information and other potential names or aliases in their travel application submitted via ESTA before they can travel to the United States."

Many of the leading visa-waiver countries are seeing their citizens going to Syria to join [the Islamic State] or Al Qaeda affiliates in that country and potentially returning home with training and new skills," a senior DHS official told the Washington Post.

Late last year, legislation was introduced to suspend participation in US Visa Waiver Program for countries that fail to share pertinent traveler info on terror threats.

McCaul also expressed concern over the State Department's desire to resettle tens of thousands of Syrian refugees in the United States, fearing "ISIS could exploit this effort in order to deploy operatives to America via a federally funded jihadi pipeline."

Last month, McCaul wrote a letter to the State Department urging them to consider the long-term security implications of terrorist groups exploiting the refugee resettlement process. While the US has a history of welcoming refugees, McCaul believes the Syrian conflict is a special case, since Syria is the home of one of the largest confluences of Islamist terrorists in history.

"The United States has historically taken a leading role in refugee resettlement and humanitarian protections," said McCaul. "But we cannot allow the refugee process to become a backdoor for jihadists."

This week the White House will be holding a Countering Violent Extremism Summit to discuss domestic and international efforts to counter violent extremism. As Homeland Security Today recently reported, the Obama administration has been criticized for omitting "Islamist" from the title.

"Calling our enemies what they are is vital," said retired Lt. Gen. Michael Flynn while speaking to a group of Special Forces members recently. "Many today don't like that type of clarity. They want us to think that our challenge is dealing with an undefined set of violent extremists or merely lone wolf actors with no ideology or network."

"But that's just not the straight truth," he stated. "Our adversaries around the world are self-described Islamic militants. And that means ... as the President of France has rightly said ... that our fight is with Islamic extremists using terrorism as their means to fight."

As part of the committee's focus on counter violent extremism, McCaul has established a Task Force on Combatting Terrorist and Foreign Fighter Travel. The task force will review US government efforts to track foreign fighters and, ultimately, provide recommendations on how these efforts can be improved.

"We must keep those barbaric terrorists out of the homeland to protect the American people," said McCaul.